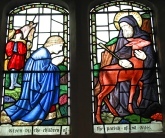 The present church was built around 1100, probably on the site of a much earlier pagan temple. It is located in the centre of the village, with imposing views of the surrounding countryside – views which probably haven't changed significantly in centuries.
The Norman building nestles amongst many magnificent old trees, in the middle of a quiet and peaceful churchyard – the highest point of the village. It has a comparatively rare ground plan of an apsidal sanctuary, quire and nave to which a large western tower was a later addition. The quire was rebuilt in the 13th C and in the 14th C the south transept and south aisle were added. The north aisle is a relatively recent addition, being added only in 1861.
In 1626 the south transept was adapted to make the Deane or Dynes Chapel, specifically designed to house two monuments to the Deane family, who lived at Dynes Hall – one of the larger estates in the parish.
The tower contains 3 bells – the frame and one of the bells dates from the 15th C – and features a westerly-facing clock. The west end of the building, including the tower, was struck by lightning in 1612 and anomalously repaired with red brick, rather than the flint of the original construction.
Recent additions, enabled by legacies from two parishioners, include a kitchen, an excellent refurbished pipe organ, a sound system, a meeting room and even a toilet, accessed from the porch.
The Church and Churchyard are administered by the Church Wardens, supported by the Parochial Church Council (PCC) who ensure the fabric and finances are appropriately managed.
Church Officers
Team Vicar:
Reverend Beverley Vincent
The Rectory, Church Street, Great Maplestead CO9 2RG
Tel: 01787 460 273/07944 200 132
E-mail: khvicar@gmail.com
| | |
| --- | --- |
| Church Wardens: | |
| Gill Peskett | 01787 462 786 |
| Jill Newton | 01787 463 893 |
| PCC Secretary: | |
| Mary Elms | 01787 461 421 |
| PCC Treasurer: | |
| Gill Peskett | 01727 462 786 |
Monthly Services* (Check here for any changes/updates to the information below before planning to attend)
| | | |
| --- | --- | --- |
| 1st Sunday | 9.30am | Holy Communion |
| 2nd Sunday | 10.30am | Cafe Church |
| 3rd Sunday# | 10.00am | 4 Parish Benefice |
| 4th Sunday | 9.30am | Holy Communion |
# Shared in 4-monthly rotation with Little Maplestead, Pebmarsh & Gestingthorpe
*Information about 5th Sunday, Christmas, Easter and other special services can be found here