General Information
Great Maplestead Parish Council has 3 noticeboards displaying Council Information located at:
1. St Giles Church, Church St - located on the verge to the left hand side of the gates
2. Toldishall, Toldishall Rd - located on verge of T-junction with Lucking Street
3. Dynes Hall Rd - located on south side of the verge, 300m east of the junction with Purls Hill
The Council regularly submits information/news/updates to the monthly Parish News Magazine (circulated to the Parishs of Great & Little Maplestead, Gestingthorpe & Pebmarsh).
Between Council meetings a regular e-newsletter, the Maplestead Magna Carta, is also produced, featuring news of interest and importance to the Parish and making the Council's business more transparent and accountable.
A Village Information Board is located in the Playing Field car park.
It provides both residents and casual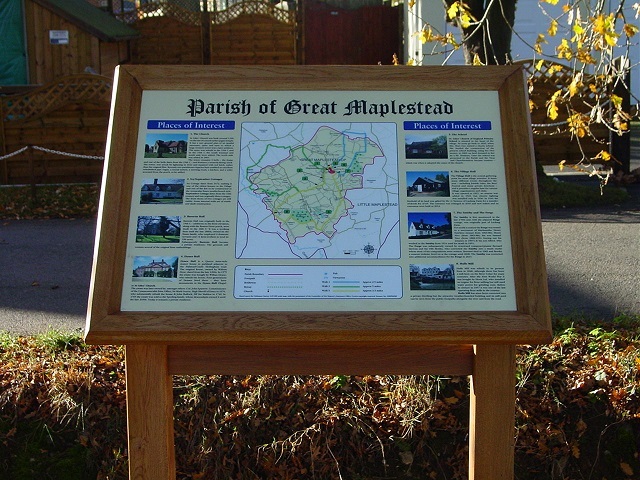 visitors to Great Maplestead with information about the village, local footpath walks and places of interest.
There are three Post Boxes in the village, located at:
1. Church St - half-way down next to the telephone box.
Latest Collections: Mon-Fri 5.30pm; Sat 10.00am
2. Toldishall Rd - at the T-junction with Lucking St.
Latest Collections: Mon-Fri 9.00am; Sat 7.00am
3. Purls Hill - at the junction with Dynes Hall Rd
Latest Collections: Mon-Fri 5.15pm; Sat 9.30am
For free advice and help to access Services & Information, including MOBILITY ISSUES, HEALTHY LIVING, BENEFITS, CARE SUPPORT and PENSIONS
Please contact our COMMUNITY AGENT: Jayne Laken
Tel: 07540 720 607 or 01376 574 341 or e-mail: jayne.laken@caessex.org.uk
Local Police can be contacted for non-emergency issues on 101
For Emergencies always dial 999