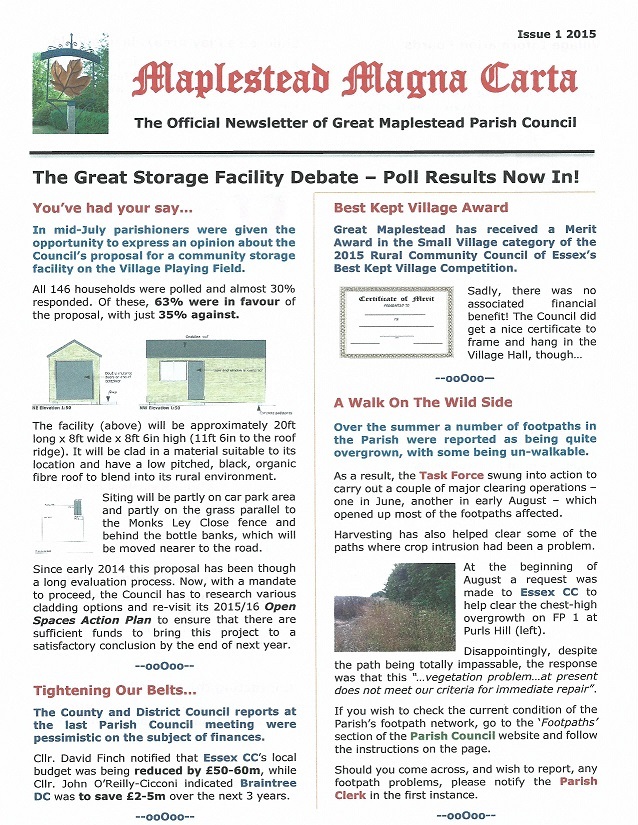 The Maplestead Magna Carta e-newsletter was launched in September 2015 to help the Council improve its communications with everyone in the Parish.
Previously, many parishioners had concerns about things happening locally – developments and other changes, maybe – that they didn't know about until it was too late.
Although Council and Planning Notices regularly appear on the three Parish Notice Boards - and on this website - we recognise that these are not always the best ways of notifying important information. The Parish News magazine, whilst being a valuable source of local information, has editorial considerations that often mean not everything submitted is able to be published.
Of course, matters of importance are always covered at Council Meetings but we accept that, eve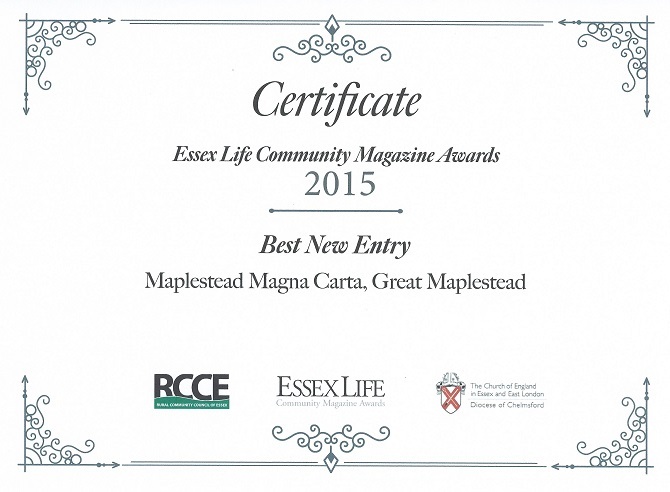 n if people are aware of the meeting dates and agendas, they may not have the time, inclination or the wish to attend.
The Maplestead Magna Carta, which won Best New Entry in the 2015 Essex Life Community Magazine Awards, is published regularly between Council meetings in order to make the Council's business more transparent and accountable, and so enable you effortlessly to keep abreast of Parish affairs.
The current issue can be read here.
A hard copy version of this is also available in the Church.
Previous issues of Maplestead Magna Carta can be read by clicking on the relevant links: Issue 1 Sep 2015; Issue 2 Oct 2015; Issue 3 Nov 2015; Issue 4 Dec 2015; Issue 5 Feb 2016; Issue 6 April 2016; Special Litter Issue 7 May 2016; Issue 8 July 2016; Issue 9 Sep 2016; Issue 10 Nov 2016; Issue 11 Dec 2016; Issue 12 Jan 2017; Issue 13 April 2017; Issue 14 June 2017; Issue 15 August 2017; Issue 16 September 2017; Issue 17 November 2017; Issue 18 January 2018; Issue 19 April 2018; Issue 20 June 2018; Issue 21 August 2018; Issue 22 October 2018; Issue 23 December 2018; Issue 24 February 2019; Issue 25 April 2019; Issue 26 June 2019; Issue 27 August 2019; Issue 28 September 2019; Issue 29 October 2019; Issue 30 December 2019; Issue 31 February 2020; Issue 32 April 2020; Issue 33 October 2020; Special Mobile Phone Mast Issue 34 October 2020; Issue 35 December 2020; Issue 36 February 2021; Issue 37 April 2021; Issue 38 May 2021; Issue 39 July 2021; Issue 40 September 2021; Issue 41 December 2021; Issue 42 February 2022; Issue 43 April 2022; Issue 44 June 2022
If you would like to receive future issues of the e-newsletter, please send an e-mail request to anncrisp@greatmaplesteadpc.co.uk and you will be added to the Maplestead Magna Carta mailing list. You will also receive Council Meeting Agendas and, exceptionally, any urgent Parish notifications.
E-mail addresses will not appear, be disclosed or be distributed to any third party and, apart from distributing the e-newsletter, Council Meeting Agendas and, exceptionally, any urgent community information, will not be used for any other purpose..