Welcome to the official Great Maplestead Parish Council website
Great Maplestead is located in North Essex, close to the Suffolk border, and has around 360 residents

In 2016 the Village won its Class (for communities of fewer than 400 inhabitants) in the

Essex Village of the Year

competition, promoted by the Rural Community Council of Essex
In 2017 the Village won a Merit Award in this annual competition
The Parish Council is the first tier of local goverment.
In

Great Maplestead

there are 7

Parish Councillors

, who are elected every 4 years.
If you wish to contact a member of the Parish Council, you will find details on the Parish Councillor information page. Alternatively you should contact the Parish Clerk
This website provides full details about

Great Maplestead Parish Council

and also has information on the various village organisations and their activities.
If you require any information, in the first instance please contact the Parish Clerk.
The links on the left can be used to navigate/select and view the information on the website.
For Important Announcements, and useful Emergency Numbers, go to PUBLIC INFORMATION
Coming Up...
Wednesday 30th August: Parish Council Meeting in the Village Hall. Starts 7.30pm. Everybody welome.
Saturday 9th September: Great Maplestead Jumble Sale - in the Village Hall. Opens at 3.00pm – entry: 30p. Refreshments & raffle. Contributions to Diane Smith (01787 473 300) at the Village Hall only on the Thursday morning before, all day Friday and Saturday morning.
Important Information
All Change for a New Bus Service
From this coming August Bank Holiday a Demand Responsive Transport (DaRT) bus service will replace the 11/12/13 Regal Busways routes serving Great Maplestead.
After the 29th August 2017, Great Maplestead, Little Maplestead, Gestingthorpe, Pebmarsh, Wickham St Paul and Bulmer will have a new flexible and more frequent bus service between Sudbury and Halstead – the DaRT F315.
However, unlike with conventional buses, DaRT passengers must book a seat, and register as a customer, at least two hours in advance of travel.
More details of this new service, and how to book to use it, can be found here.
_________________________________________________
Community Transport Scheme Cost Consultation
Braintree District Council is currently undertaking a consultation about the fees and charges made for its Community Transport scheme, due to a proposed reduction in the Essex County Council grant for its running costs. More details about the new fees and charges, and how you can participate in the consultation here.
_________________________________________________
Essex Village of the Year Competiton 2017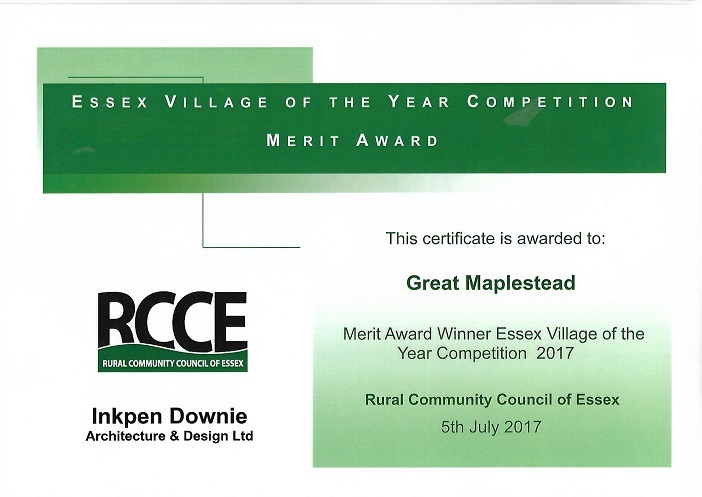 Great Maplestead has won a Merit Award in the 2017 Essex Village of the Year Competition, promoted by the Rural Community Council of Essex.
This is the third year running that the village has won in this competition, gaining a Merit Award in 2015 and a Class Winner's Award in 2016.
Our thanks to Ann Harris and Joe & Liz Newton for making a winning presentation!
General Information
Great Maplestead Parish Council has 3 noticeboards displaying Council Information located at:
1. St Giles Church, Church St - located on the verge to the left hand side of the gates
2. Toldishall, Toldishall Rd - located on verge of T-junction with Lucking Street
3. Dynes Hall Rd - located on south side of the verge, 300m east of the junction with Purls Hill
The Council regularly submits information/news/updates to the monthly Parish News Magazine (circulated to the Parishs of Great & Little Maplestead, Gestingthorpe & Pebmarsh).
Between Council meetings a regular e-newsletter, the Maplestead Magna Carta, is also produced, featuring news of interest and importance to the Parish and making the Council's business more transparent and accountable.
There are three Post Boxes in the village, located at:
1. Church St - half-way down next to the telephone box.
Latest Collections: Mon-Fri 5.30pm; Sat 10.00am
2. Toldishall Rd - at the T-junction with Lucking St.
Latest Collections: Mon-Fri 9.00am; Sat 7.00am
3. Purls Hill - at the junction with Dynes Hall Rd
Latest Collections: Mon-Fri 5.15pm; Sat 9.30am
For free advice and help to access Services & Information, including MOBILITY ISSUES, HEALTHY LIVING, BENEFITS, CARE SUPPORT and PENSIONS
Please contact our COMMUNITY AGENT: Jayne Laken
Tel: 07540 720 607 or 01376 574 341 or e-mail: jayne.laken@caessex.org.uk
Local Police can be contacted for non-emergency issues on 101
For Emergencies always dial 999
Highways Problem? - Report a highways problem direct
Help us.. to help you.
Using the above link you can report a pothole to Essex Highways or ask them about a previously reported problem, using the unique reference number that they will have given you.
Please note you can only report one problem at a time, for which you will be given a unique reference number. For example, if you are reporting two potholes in your road these will need to reported separately - you will then be given a unique reference number for each.
Essex Highways respond best to reports made using the link; the more parishioners who report a problem, the speedier the remedial action.
The views expressed throughout this site are not necessarily the views of members of Great Maplestead Parish Council.
Neither the webmaster, nor any other party involved in any way with this website, can be held responsible for any loss, cost, damage, inconvenience or expense caused through the use of this website or as a result of any inaccuracy or error contained within the website or any information or material displayed on or contained within it.